Caring for your family's teeth is important for both their health and self-confidence. Living in the Houston area means you have access to many orthodontists to help your adolescent have a confident, attractive smile. However, choosing an adolescent orthodontist is essential in your young person's desire to follow treatment plans. So how do you find the right orthodontic care for your child or teen?
Find an Adolescent Orthodontist and Ask for a Free Consultation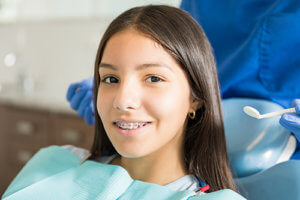 How do you know which adolescent or pediatric orthodontist provides the best care? You don't until you visit one and receive a free consultation.
Remember that orthodontics is a specialization in the field of dentistry. A dentist offering some orthodontic care does not have the same training, education, and experience as a specialist. The extra two or three years of residency in orthodontics a specialist fulfills matters when it comes to knowing the right path to a straight smile.
Luckily, your adolescent orthodontist at G Orthodontics offers a free consultation for first-time patients. Your teen visits the orthodontist to ensure both feel comfortable about this critical treatment. You can ask the orthodontist and her helpful staff about office policies, insurance verification, payment methods, and other vital aspects of care.
Review the Orthodontist's Reputation
Review your chosen orthodontist's website and get to know the office "tone" before setting an appointment. Does the orthodontist's website provide helpful information, such as through a blog? Do they seem eager to welcome new patients?
Another way you can get to know your adolescent orthodontist before the first appointment is to ask your local dentist about the practice. If your dentist refers you to the specialist, this shows they support the quality of care provided at the orthodontist.
Will Your Orthodontist Work With People of All Ages?
Getting your teen's teeth in line is very important. However, what about your own smile? Many adults seek teeth straightening, teeth whitening, TMJ/TMD services, and other care. Having the same orthodontist treating multiple members of your family makes your life easier. The orthodontist also gets to know your family better, for a clearer picture of your orthodontic treatment needs.
How Does Your Young Person Feel During Their First Visit?
When you schedule a consultation for your teen at G Orthodontics, does your loved one appear comfortable in the office during their visit? How do they like the staff and orthodontist? Does the orthodontist have a positive chair-side manner and does everyone make your family feel welcome?
Does your teen feel comfortable in the waiting room and do they gain prompt attention based on their scheduled appointment time? These things may not sound significant, but you want your adolescent to feel comfortable going to the orthodontist. After all, teeth straightening and other services require your teen to engage in their own treatment. Additionally, many services necessitate regular, monthly appointments — the way they feel during these visits matters.
Book Your Appointment Today
G Orthodontics in Pearland and Houston proudly provides families with the orthodontic care they need. We'll ensure your child or teen feels comfortable while seeking straight, attractive smiles with Dr. Garcia.
Services and treatments offered by G Orthodontics include:
Caring for your teen's teeth today helps them have an attractive, confident smile for the rest of their life. This helps them achieve their goals in socialization, work, and other areas of their future. So call G Orthodontics to schedule your first adolescent orthodontist visit today. Call our office at (713) 436 1241.