When your child needs help for straighter, properly aligned teeth, your pediatric orthodontist in Pearland and Houston serves these needs. In young children, orthodontists call these methods of smile correction "interceptive orthodontics." For this treatment, your child starts seeing your family orthodontist as early as age six. Because children's teeth and jaw are still developing at this age, it is the perfect time to fix and prevent problems.
Other children wait until later ages to start seeing their pediatric orthodontist in Houston. This depends on their needs and the orthodontist's treatment plan.
Even adults can benefit from the help of an orthodontist. Teeth alignment using ceramic braces, metal braces, and Invisalign are highly popular straightening methods used by adults of all ages. Luckily, G Orthodontics provides care for children as a pediatric orthodontist and adults as part of adult orthodontic care, meeting the whole family's needs.
Benefits of Pediatric Orthodontics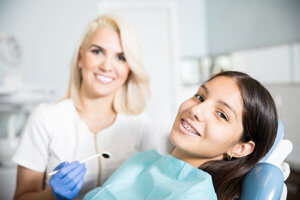 Pediatric orthodontics work well for realignment of children's' bites and smiles while their jaws continue growing. If they have jaw and dental arch positioning problems, these problems are easier to correct at a young age. For children, orthodontic care starts as early as appropriate. Then, at a later age, they receive follow-up care to complete their alignment.
Children's braces feature more options and comfort today than ever before. Children feel less self-conscious of ceramic braces and metal braces of various colors and styles. Invisalign teeth aligner trays work well for teens and adults, being invisible to others and removable for oral hygiene and eating.
Don't feel stress if your child needs braces under the care of a pediatric orthodontist. Dr. Garcia can provide the guidance, support, and answers you need to understand your child's bite problems or other need for teeth alignment. Our team also offers support for financing and maintenance needs.
Your Child's First Orthodontic Appointment
For your child's first pediatric orthodontist appointment, you start by meeting the office staff and care providers. You complete paperwork, providing the orthodontist with details of your child's health, allergies, and dental history.
Your child's first pediatric orthodontist appointment involves a thorough exam, often with dental ex-rays of the teeth, mouth, and jaws. This visit also usually consists of taking impressions of your child's teeth.
If your child's treatment includes the need for a retainer, expanders, or braces, the pediatric orthodontist in Houston will discuss this with you. Be sure to ask any questions you have before making your decisions. Talk about what the expected treatment time will include, usually months or several years. Also, discuss how often your child will need to visit the orthodontist.
Expect to spend one or two hours at the first visit. Later visits are shorter when scheduled for appliances adjustments or checking the progress of your child's teeth.
Getting Started In Orthodontic Treatment
If your dentist recommends for your child to see a pediatric orthodontist in Houston, schedule your first visit. After you decide upon a treatment plan, you need to arrange for installations of the braces or other appliances. You can expect your child to see the orthodontist every six to 10 weeks during bite alignment or other treatments.
Never hesitate to ask the office any questions. These include questions about cost, payment methods, scheduling, additional orthodontic services, or other needs.
G Orthodontics in Houston, TX provides quality services for your whole family, including:
Call your family and pediatric orthodontist at G Orthodontics now at (713) 436 1241 to schedule your first visit. At G Orthodontics, your whole family gains the treatments and care they need for bright, attractive, and properly aligned smiles.