If you want to straighten your teeth or the teeth of a young person in your family, you have more options today than ever before. These options include traditional metal braces, ceramic braces, and Invisalign aligner trays. Of course, your orthodontist can help you decide on the best method for your individual needs.
Advantages and Disadvantages of Metal Braces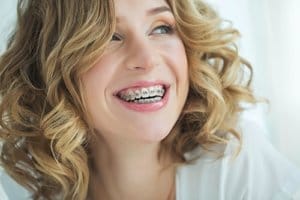 Traditional metal braces treat extreme overcrowding of your teeth better than any other teeth straightening method, including ceramic braces or aligner trays. These conventional braces also cost less than other options. Using a metal framework on your teeth, braces provide your orthodontist with the most control over how your teeth move.
Of course, many people today do not want metal in their smile. We live in a social media age full of smiling selfies and photo memories. While options like Invisalign seem like a better choice on the surface, metal braces today provide a more appealing look than in the past. There are even color choice options for your braces' brackets and elastics.
For parents of young children and teens, you know that keeping your child on track with voluntary options proves difficult. When provided with removable teeth straightening appliances, young people often take these out more often and longer than advised. This slows the teeth straightening process and adds to your costs. Metal braces do not come out until removed by the orthodontist, which helps ensure your child's teeth straightening stays on track.
Caring for Your Braces
If you and your orthodontist choose metal or ceramic braces for your teeth straightening, you need to keep daily oral hygiene in mind. This includes avoiding chewy or very hard, crunchy foods that damage wires and brackets. You also need to avoid some whole fruit or vegetables, like peaches, that easily lodge between wires. By simply cutting these foods into bite-sized pieces, you solve this problem.
Brushing and flossing become more important than ever with your braces. You need to pay particular attention to your daily oral hygiene with braces. You may need a special brush for working around small crevices and wires to ensure your teeth do not suffer decay or staining. Over time, your daily hygiene gets much easier as you become used to the braces.
Of course, having braces also means you need to maintain a schedule of orthodontic appointments. You need regular adjustments to the braces for them to work correctly. Despite these inconveniences, metal braces provide a gorgeous smile at the end of your treatment. That provides the incentive you need during these appointments and specialized care.
Do I Need Metal or Ceramic Braces?
Traditional braces made of metal cement to your teeth. Metal wires connect the brackets. This means your braces are noticeable to people when you speak, eat or smile.
Ceramic braces function similarly to metal ones but provide a different look. The braces consist of transparent ceramic, often using transparent wires as well.
Whether you need metal or ceramic braces comes down to your orthodontist's treatment plan. Metal traditional braces still provide the most control and best outcome for straightening many people's teeth. So if you suffer extreme overcrowding of your teeth or severe misalignment, your orthodontist may recommend traditional braces.
Teeth Straightening in Houston and Pearland, Texas
Whether you want straighter or more properly aligned teeth, G Orthodontics in Pearland and Houston, Texas can help. G Orthodontics offers traditional, ceramic, and Invisalign teeth straightening.
Other services at G Orthodontics include:
Night guards
Teeth whitening
Schedule your appointment with G Orthodontics today to learn more about your metal braces, ceramic braces, or Invisalign options for teeth straightening. Call our office at (713) 436 1241 to start working toward a straighter, more gorgeous smile!