Orthognathic surgery straightens and aligns deformed jaws. A surgeon performs this operation using surgical plates, screws, wires, and templates to reshape your jaw for a better bite, speech, chewing, or sleep. Conditions helped through this surgery include improper bite, sleep apnea, headaches, congenital disabilities, TMJ pain, joint pain, and gum discomfort. They also include mouth breathing, lip closure problems, trauma or injury, open bite, protruding jaw, receding jaw, and tumor.
Why Do People Need Orthognathic Surgery?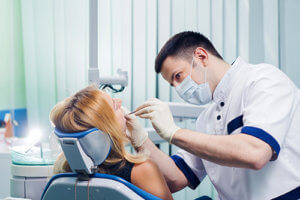 Your orthodontist refers children, teens, or adults for orthognathic surgery if they suffer congenital disabilities or orthodontic problems. However, this surgery does not take place until their jaw stops growing. This means people usually go through this operation between ages 13 to 15 for girls, and ages 16 to 18 for boys.
Finding orthodontic problems and gaining treatment early in life helps children avoid the need for surgery, in some cases. Before orthognathic surgery, most people need to wear braces for about a year to 18 months. When the jaw heals after the operation, the orthodontist continues aligning the teeth. But soon, the braces come off and reveal a beautiful smile with corrected jaw problems.
From start to finish, this surgery and teeth alignment using braces usually takes about one to three years. Of course, the time for completion depends on your own individual needs.
Risks of Your Surgery
All surgery brings risks. For jaw correction surgery, these risks include:
General anesthesia use and reactions
Pain
Swelling
Bleeding
Infection
Damage to bone or gums
Your surgery requires you to stay in the hospital for a few days, depending on your needs. You then recover at home for about six weeks. During this time, you must take care of your oral needs according to your doctor's instructions. Children having the surgery need their teeth brushed after every meal using a soft, small toothbrush designed for kids.
Does My Insurance Cover this Surgery?
Your insurance may cover orthognathic surgery. Dental insurance doesn't cover it as it is medical in nature and the care takes place in a hospital. Cost varies according to how severely misaligned your jaw is and what the surgeon must do to correct it. Of course, the hospital where you gain treatment, your location, and complications you suffer all play a role in your cost, too.
Because of your medical need for this type of surgery, it is not a cosmetic procedure. It keeps you from suffering long-term health and dental problems. This is why most health insurance helps pay for the operation and hospital stay. They usually pay at least part of the costs, if not all.
Orthognathic Surgery and Other Smile Correction at G Orthodontics
You and your loved ones need access to quality orthodontic care, especially if you have children, teens, and young adults in the family. For some, this includes jaw correction through orthognathic surgery. Others need teeth alignment using braces or aligner trays, or other orthodontic procedures.
In Houston and Pearland, Texas, two locations of G Orthodontics serve your family. G Orthodontics services include:
Self-confidence grows with an attractive smile. For yourself and your children, having a beautiful, aligned, and bright smile is possible with the help and care of G Orthodontics. Call G Orthodontics now in Houston at (713) 436 1241 to learn more about orthognathic surgery or to schedule your first visit.