When you look in the mirror, do you wonder how to straighten teeth for your best smile? Many people seek straighter, brighter teeth to gain more confidence and improve their appearance. However, wearing braces is not the only pathway to straighter teeth. Of course, you have multiple options today for the gorgeous smile you deserve.
How to Straighten Teeth Without Braces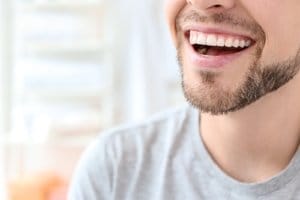 Invisalign clear aligner trays consist of almost invisible polyurethane plastic. This method of how to straighten teeth without braces proves comfortable for many people. These aligners do not cement to your teeth. Instead, they provide removable comfort for special occasions, eating, and taking care of your daily oral hygiene.
Unfortunately, the upside of using this method of how to straighten teeth without braces is also its downside. That is, you must resist the urge to remove your aligner trays more often or for longer than your orthodontist recommends. Wearing Invisalign aligners takes some self-discipline. This means they do not work as well as metal braces for some young children, teens, or adults who find it too easy to avoid continuing their treatment.
Of course, the advantages add up when it comes to deciding on Invisalign vs. traditional braces. Benefits of Invisalign include the following:
Better oral hygiene
Discreet teeth straightening
Unrestricted dietary choices
Comfort
Protection from grinding your teeth
The technology behind Invisalign improves with each passing year. This means these aligner trays work well for a wide range of orthodontic problems, or malocclusions. However, some situations still call for traditional metal braces. Talk to your orthodontist to learn whether Invisalign treatment will work for your specific case.
Problems Not Requiring Braces
Some orthodontic problems do not require braces. For example, if your teeth only suffer slight overcrowding, you may be able to straighten them without braces. In this case, many people use a retainer.
For malocclusion, an appliance that adjusts the position of your jaw works for some people. An underdeveloped palate widens with the help of expanders. These expanders create space for your teeth to eventually move into the right positions.
Your orthodontist is the expert for knowing how your teeth can become straighter and more properly aligned for a healthy bite. A quality orthodontist provides multiple options for teeth straightening and to fix other problems like an underdeveloped palate. It just becomes a matter of determining which method suits your needs best.
Teeth Straightening in Houston and Pearland, TX
In Pearland and Houston, Texas you have options for your teeth straightening and other orthodontic needs. G Orthodontics offers a range of services, including the following:
Traditional metal braces
Ceramic braces
Teeth whitening
For your Pearland and Houston area orthodontic care, visit G Orthodontics. At G Orthodontics, Dr. Garcia and her highly qualified, friendly team look forward to meeting your orthodontic needs. Talk to us about how to straighten teeth without braces for your best smile. Call (713) 436 1241 to schedule your first visit now.