G Orthodontics is celebrating National Brush Day 2018 on November 1. This annual dental health event raises awareness about the importance of your child's tooth brushing habits. Children's oral health plays a significant role in their dental condition as adults, as well as in self-confidence and socialization. So for this November, pay close attention to your child's tooth brushing habits to help them improve their dental health.
About National Brush Day 2018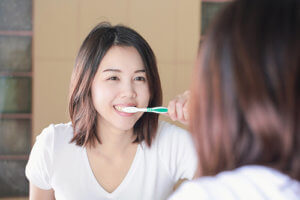 For the past five years, National Brush Day has taken place in the United States on November 1. Organizers chose November 1 because one of the worst days of the year for children's teeth is the day before, Halloween. Each Halloween, kids eat many trick-or-treating sweets. Of course, these sugary snacks and poor oral hygiene cause many problems for their teeth.
In fact, eating too many sugary foods is the number one cause of tooth decay. Tooth decay is also one of the most common childhood diseases in the United States. For this reason, National Brush Day 2018 works to remind children and parents around the country to take better care of their teeth.
National Brush Day extends the reach of Kids' Healthy Mouths public service campaigns. These campaigns focus on educating people in the United States on pediatric dental health. They also remind parents to ensure kids brush their teeth at least twice each day, for two minutes each time.
As parents, we all must pay close attention to what our kids do. Many kids dislike brushing their teeth and consider the activity a chore. Therefore, it takes work to find out how often your children really brush their teeth and whether they brush well.
To make this daily chore easier, the Kids' Healthy Mouths released a set of funny two-minute long videos to watch with your kids while brushing teeth. These videos help them maintain good tooth-brushing habits. In the long run, this prevents oral pain and many dental problems.
Why Is Tooth Brushing So Important?
Brushing your teeth well keeps your dental health in check. Keep in mind that we eat an average of three or more times each day. When you chew your food, leftover food particles stay on your teeth and gums, under your tongue, between your teeth, and in the pits of your teeth.
All of this leftover food puts bacteria to work and gives it food and energy to keep working on decaying your teeth. These bacteria are active 24 hours per day and seven days per week. This causes plaque. The plaque acids damage your tooth enamel and gums, leading to dental decay and gum disease.
Brushing your teeth clears away a significant percentage of leftover food and plaque. By brushing, you clean your mouth and prevent dental decay. You also gain fresh breath and protect your smile.
Celebrate National Brush Day 2018 with Us
Consider celebrating National Brush Day with G Orthodontics this year. Set an appointment for your child to see the dentist. While you visit the dentist and dental hygienist, ask about ways your child can improve their tooth brushing habits.
Other dental services to ask about include:
Metal or ceramic braces
Children's dental care
With locations in both Pearland and Houston, Texas, G Orthodontics is close to home. Call G Orthodontics in Pearland at (713) 436 1241 to schedule your family visit to celebrate National Brush Day 2018.