Having UnitedHealthcare dental insurance coverage helps you avoid paying for many dental and orthodontic costs out-of-pocket. Such a policy makes affording treatment much easier and opens your field of treatment options. Whether for your own teeth or your children's healthiest bites and smiles, G Orthodontics in Houston accepts UnitedHealthcare insurance.
Brushing and flossing are not all your smile needs for good health. These habits also don't straighten your bite for healthier eating, clear speech, and proper sleep. For your best bite and smile, you might need orthodontic care. You receive this care after your dentist suggests seeing an orthodontist, or you schedule a visit on your own.
What Happens During Your Orthodontic Visit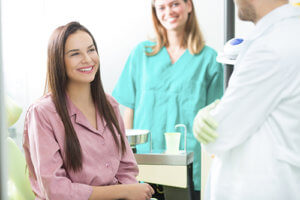 Using your UnitedHealthcare dental insurance coverage, your treatment from a quality orthodontist begins. Your first visit includes completing some paperwork about your dental history, health history, current medications, allergies, and other essential information. You meet the office staff, hygienists, and orthodontist.
Once you comfortably relax in the orthodontic exam chair, the orthodontist checks your teeth, jaw, and mouth to learn more about your possible treatment needs. Most people get dental x-rays during the first visit. You may also have to give a teeth impression in a special dental putty or clay. Using all of these methods, your orthodontist decides which services you need.
The orthodontist discusses possible treatment approaches with you, as well as the details of your smile or bite problem. The most common methods of fixing your teeth include braces, retainers, expanders, night guards, TMJ or sleep apnea treatment, Invisalign, or teeth whitening. Under the right circumstances, your UnitedHealthcare dental insurance coverage helps you afford your treatment.
About Your UnitedHealthcare Dental Insurance Coverage
Living with tooth pain, headaches, sleep apnea, crooked teeth, a misaligned bite, or jaw problems can cause considerable discomfort. If you cannot afford orthodontic treatment, this discomfort continues. However, with UnitedHealthcare dental insurance coverage, you can access the support you need to pay for treatment and fix these problems.
For most people with these policies, UnitedHealthcare dental insurance coverage pays at least a portion of costs for orthodontic exams, preventive care, and even advanced procedures. If you do not already have this coverage, you should consider getting a policy to help you afford the services you need. These policies come from two different sources, including:
Your Employer's Group Coverage
Health and dental insurance benefits often come from your employer or your spouse's employer. Once a year, you have the chance to gain coverage through the open enrollment process, if you qualify. Some of these policies provide immediate benefits. Others maintain a waiting period before you're able to use them.
Individual Insurance Plans
Individual coverage is more costly than policies offered by an employer. Of course, if you don't have access to insurance through the company you work for, individual coverage is a good option. You can gain coverage with no co-pay or deductible requirements. You can also start your coverage before needing significant procedures, helping you save money in the long term.
Using Your Houston and Pearland, TX Dental Benefits
To start using your dental benefits for orthodontic care, set an appointment with G Orthodontics. G Orthodontics maintains offices in Pearland and Houston for your convenience. Services provided at these locations include the following:
Teeth straightening using metal or ceramic braces
Invisalign teeth straightening
Mouth guards and night guards
Pediatric and adult orthodontics
Contact G Orthodontics now to schedule your first visit. Call our Houston office at (713) 436 1241 to learn about your UnitedHealthcare dental insurance coverage and set your appointment today.