Did you know that October is National Dental Hygiene Month? What does this annual event mean for you? Get to know more about this observance and what lessons it provides for your healthiest teeth, mouth, and jaw.
National Dental Hygiene Month applies to both dental care and orthodontic treatment. The month-long event celebrates the help and care your dental hygienists provide. It also helps raise awareness of your need for good oral health.
The Focus of National Dental Hygiene Month, October 2018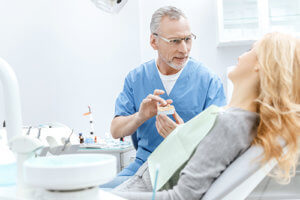 For October 2018's National Dental Hygiene Month, the focus is on four essential aspects of your best oral health. These include:
This year, make a plan to brush your teeth as often and as well as you should. This means brushing your teeth twice daily for two minutes each time. Use a soft-bristled brush that easily fits into your mouth and reaches all areas of your mouth.
Brush your teeth by placing the toothbrush at a 45-degree angle to your gums. Use strokes spanning your entire tooth, one tooth at a time and by gently moving the brush back and forth. Clean the inner surfaces of each tooth, as well as the outer surfaces. Don't forget the crowns of your teeth, the surfaces where you chew your food.
After cleaning your teeth, brush your tongue. This helps keep your breath fresh and removes bacteria on that part of your mouth.
Good Dental Hygiene Is More than Just Brushing
Along with your twice daily brushing, floss your teeth using a quality dental floss string or specially designed floss picks. Floss once daily at a minimum, or more if you sense food particles or other debris between your teeth. This removes plaque that brushing cannot reach.
Using a non-alcohol rinse adds an extra tool against plaque and its effects of tooth decay and gum disease. Rinse often, at least once each day and to freshen your mouth between brushings or after meals. This helps to prevent dental decay and infection.
Finally, after each meal, chew sugarless gum. This increases your saliva flow. Saliva naturally defends your mouth against plaque, so you need this vital disease fighter.
Make a plan to enjoy better oral health and hygiene in the coming year. After only a few weeks of sticking to this plan, it becomes second nature.
Orthodontic Care in Houston and Pearland, TX
You should work to maintain good dental hygiene every single day of your life. Get on the right track for your best smile and bite through your family's orthodontic care. Orthodontic treatment programs in Houston include:
Teeth alignment using Invisalign or braces
Teeth whitening
Mouth guards and night guards
Pediatric orthodontics
Adult orthodontics
Call G Orthodontics in Houston at (713) 436 1241 now to schedule your first visit. Add this treatment and care to the steps recommended by National Dental Hygiene Month, for your healthiest smile.