Sleep apnea is a bigger deal than you might think. Thankfully, your orthodontist at G Orthodontics understands your need for a good night's sleep and the improved health this promotes. With multiple sleep apnea treatment options through your orthodontist, you can be sleeping better in no time.
What Are Sleep Apnea Treatment Options and Who Needs Them?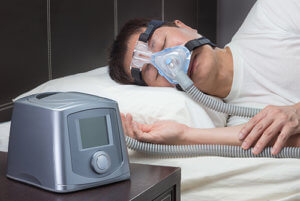 In a nutshell, Houston sleep apnea treatment helps you overcome your sleep problems related to airway blockage in your sleep. Many people suffer this condition in the United States, with too few knowing about widely available sleep apnea treatment options.
Diagnosing sleep apnea generally requires a sleep study to determine how many times you stop breathing in your sleep. These studies also help determine how low your blood oxygen levels drop during these episodes.
Undiagnosed and untreated sleep apnea leads to many health problems. Some people suffer heart attacks or strokes in their sleep, while others suffer glaucoma, diabetes, cancer, cognitive disorders, or behavioral issues because of their sleep condition. As you can see, having sleep apnea does more than just make you tired.
Sleep apnea treatment available through your orthodontist include positive airway pressure devices and oral appliances. For this treatment, your orthodontist and your doctor work together to form a diagnosis and ensure you receive the right solution.
Positive Airway Pressure Devices
One sleep apnea treatment option is a positive airway pressure device, called a PAP. Three common kinds of PAPs include the C-PAP, BiPAP, and VPAP. These involve wearing a mask snugly over your nose and mouth during sleep. The machine supplies pressurized air flow to your throat through a connecting tube to keep your airway from collapsing.
According to studies, PAP machines provide significant benefit for people with sleep apnea. This sleep therapy helps them avoid being tired during the day since they sleep better at night. They also suffer fewer health problems related to their sleep apnea. One great benefit is the elimination of the patient's snoring, so others in the household sleep better, too.
Oral Appliances as Sleep Apnea Treatment Options
Another type of sleep apnea treatment option is an oral appliance. More people use these appliances than ever before, and many see great results. Essentially, you can avoid the cost and cumbersome nature of a PAP machine if an oral appliance works.
A sleep apnea oral appliance holds your lower jaw forward in your sleep to keep the airway open. This, in turn, prevents your tongue and muscles from collapsing and blocking your breath.
The FDA approved more than 100 different types of oral appliances for sleep apnea treatment. You wear the device in your mouth like a sports guard or night guard. Worn only during your sleep, this method is discreet, comfortable, and effective.
Oral appliances cost less than a PAP machine and fit well into your lifestyle. Other reasons to try one of these appliances include comfort, easy wear, portability, travel convenience, and simple cleaning.
Asking Your Orthodontist for Help with Sleep Apnea
Your orthodontist provides Houston sleep apnea treatment. These services take place alongside an array of teeth straightening and smile improvement services. Orthodontic care can include:
Call your orthodontist at G Orthodontics now to set up your first visit or discuss sleep apnea treatment options. In Houston, call (713) 436 1241.