Thumb sucking and Other Oral Habits. – This has been a very popular topic on dental chats lately. Thumb sucking is defined as the placement of
one or more fingers in varying depths into the mouth. Thumb and digit sucking is one of the most
common habits that children indulge in. Recent studies have shown that this habit may start in uterine
life. The presence of this habit is considered to be normal until the age of 3-5 years old. After that age
any negative consequences that arise from this habit can only be corrected with orthodontics and
dentofacial orthopedics. There are many theories of why the kids suck their thumbs or fingers. Children
can suck their thumb or digits due to innate reflexes, psychological reasons or just due to learned habits.
The real reason is unclear. What is really clear is the consequences that this habit has in the child's
growth and development.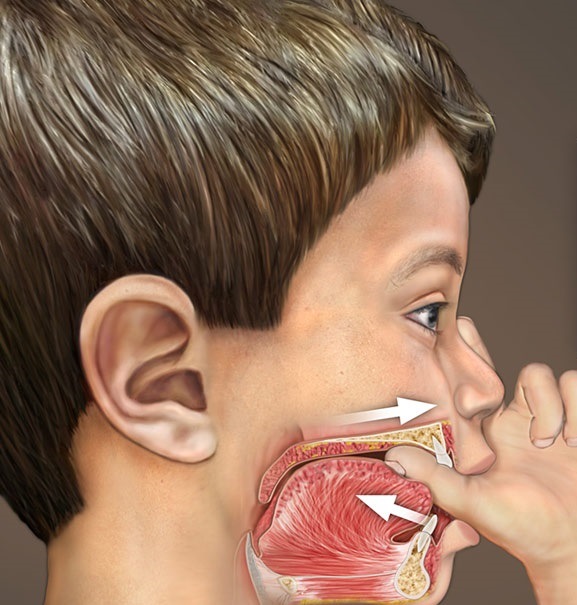 Thumb and digit sucking habit can cause many changes in the dental and supporting structures such as:
open bites and narrow dental arches. The consequences of these problems can lead to local dental
problems such as dental crowding and impacted teeth due to narrow maxilla and mandible; to
asymmetric jaw growth than can arise from a crossbite; to TMJ problems; to speech problems due to
the lack of teeth and lip seal in children; to propensity to dental caries due to mouth breathing; to lack
of proper sleep breathing which can affect the oxygenation of the lungs, brain, other organs and full
body, hence affecting general growth and development of the children. The severity of these conditions
varies on the frequency of the habit (how many times a day), the duration of it (for how long), and the
intensity (how hard they suck).
Yeap! "It sucks!"  All that from thumb sucking!
What can we do to stop it? If the child has not stopped the habit by 5 yrs. old you need to seek for help.
First, you should talk to the child and ask if they want to stop the habit? Tell them how detrimental it is
for him or her. Believe me, usually they want to stop it. Then set up a reward system. Points to redeem
for a puppy, something.- Ha!Ha! That's what I am doing with my daughter but that's another story,
because since I don't want a dog in the house because she is too little she needs to get 200 points,
which is almost unachievable at 1 point a day, IF she gets it.- Make a little and achievable rewarding
system. Then try "Mavala Stop". This stuff is NASTY! You paint the nails while asleep (be careful to use
gloves because you will stink for days) and voala! No more sucking the "nasty" thumb.
Second option is orthodontic and orthopedic appliances. Sometimes we have to insert a thumb crib or
palatal expander with a crib to regain the shape of the upper jaw (maxilla) and/or lower jaw (mandible),
depending on the severity of the treatment. The appliance is left for 4 months to 1 yr. depending on the
severity and condition. Sometimes we have to place braces in the front of the teeth. Children usually
stop the habit within the first couple of months. However, the appliances must stay there to ensure the
condition doesn't relapse. Children at our office have responded very well to our treatments. We
always encourage and motivate them and we work as a great team in conjunction with the parents and
other specialists such as pediatricians, speech therapists, allergists and others, depending on the
severity of the condition.